I'm hoping someone has a suggestion as to what is wrong with my sewing machine. I've had this problem off and on since buying this machine about 2 years ago. I'll be sewing along (no matter what stitch -straight, zigzag, or decorative and with all fabric types) and the thread will just start to bunch up in front of the needle, fray out and break.
I'm assuming this is a problem with tension, but I don't know how to resolve it. My top thread tension is on "Auto" and I've tried moving it + or - but it still has the same problem.
It's a little hard to explain so I did a quick video to see if I could show the problem
(Click the pics to watch the video)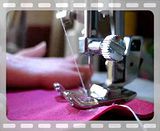 Watch the top thread in this video. You can see a knot form in the top tread before it goes in the needle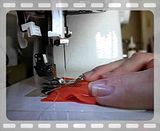 Any suggestions?